Virtual Reality (VR), a technology we all thought would be used only for gaming, is revolutionizing almost every industry and finding its way into our everyday life.
BUSM about VR:
We already see news about VR being used in the Healthcare Industry. And a new study by the Boston University School of Medicine (BUSM) has presented the viability of using VR technology to concentrate on strategies for looking into social determinants of health (SDoH) using an interprofessional technique.
What is Social Determinants of Health?
Social Determinants of Health (SDoH) is a group of factors that includes housing, income, employment, and education. And an estimated 70% of the variation in health outcomes and rates of hospitalization are attributable to SDoH.
Although screening for SDoH during medical visits has been adopted by many health systems, medical education continues to focus primarily on the identification and treatment of disease at the individual level. Trainees are often under-equipped to address patients' health-related social needs (HRSN) and are led to believe that SDoH is beyond the scope of clinical practice.
The American Association of Medical Colleges (AAMC) has already acknowledged the importance of training future physicians to identify and address SDOH.
However, there was a small problem. Medical students and physician assistants often lack this training. While social workers have extensive SDOH training, only a few medical professionals have opportunities to engage in inter-professional training with social workers.
All this was until VR came and stepped into the Healthcare Industry. Now it can be the perfect solution to this problem, and it has already been proven.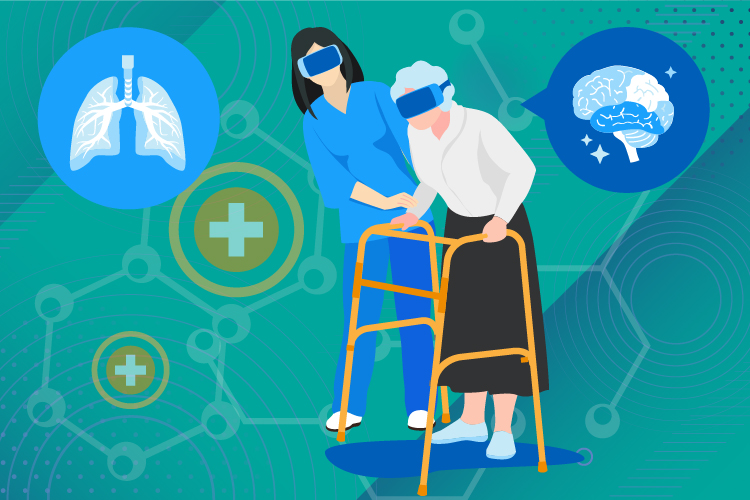 The study:
In addition to Sprague Martinez, the project team includes BU School of Medicine's Pablo Buitron de la Vega, MS, MSc, and Aliza Stern, MMSc, PA-C. The project is supported by BU Digital Learning & Innovation's (DL&I) Digital Education Incubator.
To test the educational impact of this emerging learning technology, medical, physician assistant, and social work students were placed in VR simulated learning environments (SLEs) to learn how to address SDOH collaboratively. This pilot project was led by Boston University School of Social Work Associate Professor Linda Sprague Martinez and colleagues at BU School of Medicine.
The goal of this study was not only to improve medical students' ability to screen for SDoH but also to help foster inter-professional collaboration between disciplines and an increased understanding of the various roles vital to a complete healthcare team.
The results:
MD and PA students learned patient engagement strategies from SW students, while the SW students enhanced their healthcare leadership capacity. All three sets of students found this means of instruction to be more efficient.
This wouldn't have been possible a decade ago. But now, with the increased adoption of VR during the COVID-19 pandemic, VR technology has become more affordable and accessible to everyone. So, as this technology advances, this model of training for health professionals will become more common.