The AR experience comprises of 25% digital reality and 75% real-world reality where virtual items are integrated into the real world rather than replacing the entire environment.
In 2022, According to a Statista report, 1.1 billion people would utilize augmented reality on their phones. And it is true that from just over 500 million mobile global augmented reality users in 2020, the numbers have gone up to 810 million last year. As a result, more organisations began to invest in augmented reality technology. Different industries are recognizing the amazing potential of augmented reality to create their business solutions. Here are five top industries using Augmented Reality.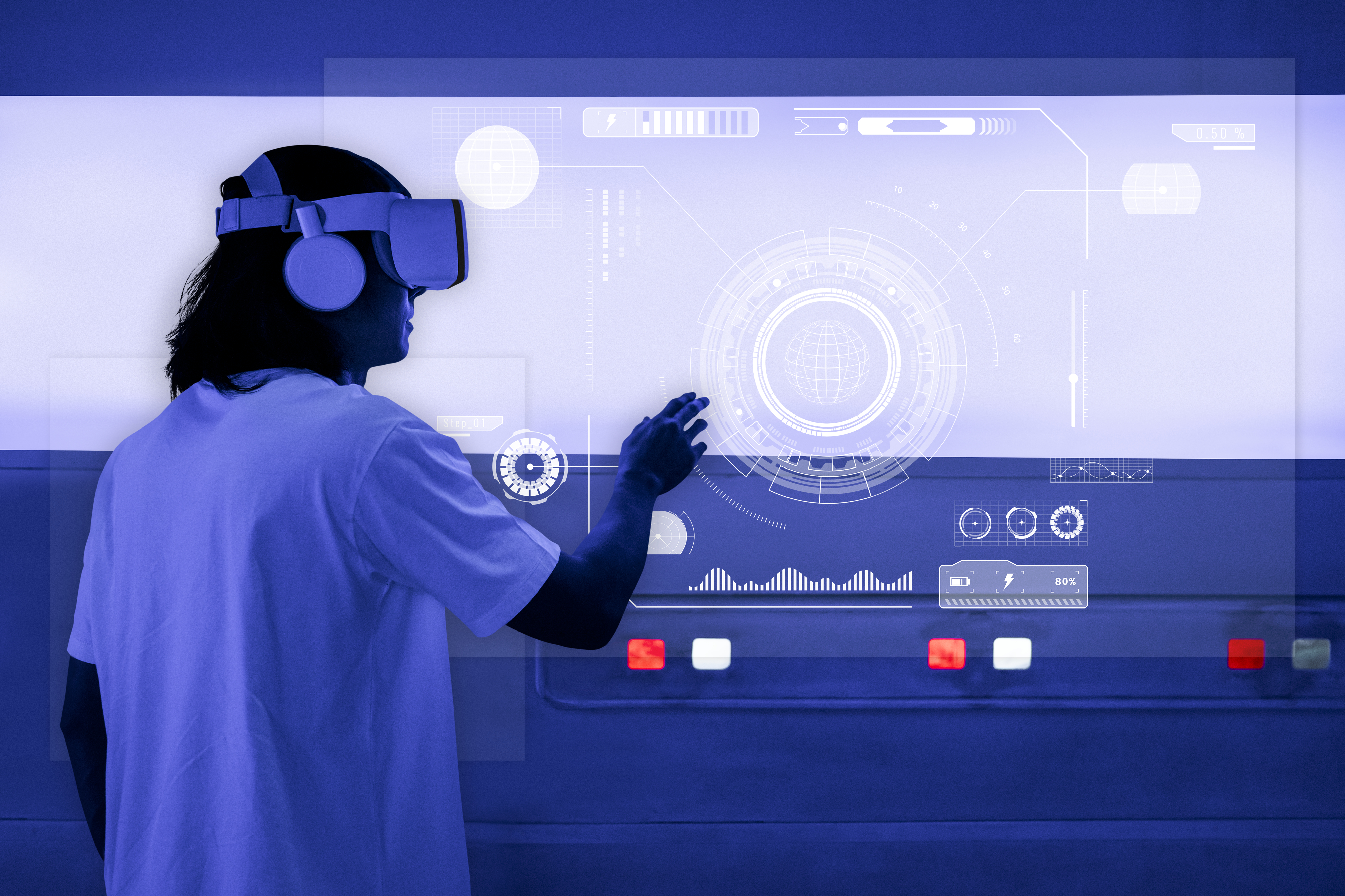 1. Augmented Reality for Education:
In the education industry, AR technology is making an impact in two ways: by engaging users and making concepts interactive. It helps tutors and professors to create the ideal learning environment for students. A physical education teacher can transform a classroom into an augmented reality playground or a high-definition gym to inspire their students.
Teachers can introduce gamification into the curricula and create the educational material. It encourages them to use 3D AR modelling to turn a boring class into a mind-blowing learning experience and help the student to visualize and learn complex concepts easily and quickly. AR is proven to achieve learning beyond the textbook and satisfy their curiosity.
Key Highlights:
Interactive Classrooms
Motivated Students
Increased Memory Retention
Enriched Storytelling
Life-like Simulations
2. Augmented Reality for Healthcare:
AR already plays a part in contactless hospital navigation, but it can also help doctors and patients connect in the future.
Many life sciences companies are utilizing augmented reality (AR) to bring innovative therapies to life. AR can assist in the creation of rich, interactive experiences that demonstrate how new medications and medical technologies interact with the human body.
AR can also help HCPs communicate new medicines to patients in a more visual way.
Some good use cases of AR in healthcare to quote includes:
Help patients visualize pain symptoms and explain better to their doctors.
Optometrists can help persons with vision loss recreate their visual experience or better understand how their eyes change as they age.
Hospitals can monitor non-critical patients from home, freeing up intensive care beds for essential patients using AR-powered telemonitoring.
Key Highlights:
Realistic 3D visualization
Skills development training
Enhanced patient care and education
Virtual assistance in medical facilities
Enhanced diagnosis
Digital entertainment in hospitals
Healthcare marketing and advertising through AR
3. Augmented Reality for Manufacturing:
A minor mistake in the manufacturing process might lead to the costly and time-consuming process of re-building or upgrading an existing product. Augmented reality is a fantastic tool for quickly detecting production flaws. With the ability to digitize product development in 3D, the technology makes it easier to access and understand the prototype. Business leaders can make the best decisions with ease, and their teams can work together efficiently. This improves the entire experience and profit earned by increasing the speed of the process as well as the efficiency rate.
In other context, AR is used to explain a tool, component, machine, or any area of a factory and give more information that can be in any form from pictures, reference documents, videos and IoT to educate users through a mobile app.
Key Highlights:
Asset identification
Knowledge transfer
Train new workers
Achieve faster upskilling
Digitize Work Instructions, SOPs
Hands-On And Safety Training
Product Design And Development
4. Augmented Reality in Fashion & Cosmetics:
The beauty industry is being transformed by augmented reality, which provides virtual assistance to customers who don't have to leave their homes to try out the newest in fashion and cosmetics. Macy's, for example, is making the cosmetics selection process easier for customers who want to try out new products without having to wait in potentially large queues at the counter. They designed a mobile app that allows users to choose from thousands of beauty products and hues for customized makeovers using augmented reality technology. This allows customers to obtain a sense of what they desire before entering a store.
Key Highlights:
Try before you buy
Shoppable AR Filters in Social Media
Product Visualization
5. Augmented Reality for Automotive:
Automobile makers are using augmented reality to fine-tune new vehicles from idea to preliminary testing before they hit the market. Improved imaging software, interactive projection technology, and remote-control capabilities all help to make this possible. Technicians can evaluate vehicles' critical functions and features without needing to utilize an actual car by using augmented reality.
Many innovative solutions using AR help industries attract more attention to the products and services advertised and reap benefits for success. To get a free consultation on AR App Development, get in touch with us.
Key Highlights:
Digital AR Manuals
Optimize the processes of prototyping and assembling cars
Assists service technicians in car repair
AI head-up display to minimize risks on the road
Digital Car Showrooms
We at DevDen, will be glad to advise you on how to make the most of augmented reality in your business We can also assist you with the development of augmented reality applications to help you take your business to the next level. Reach us for a free consultation.