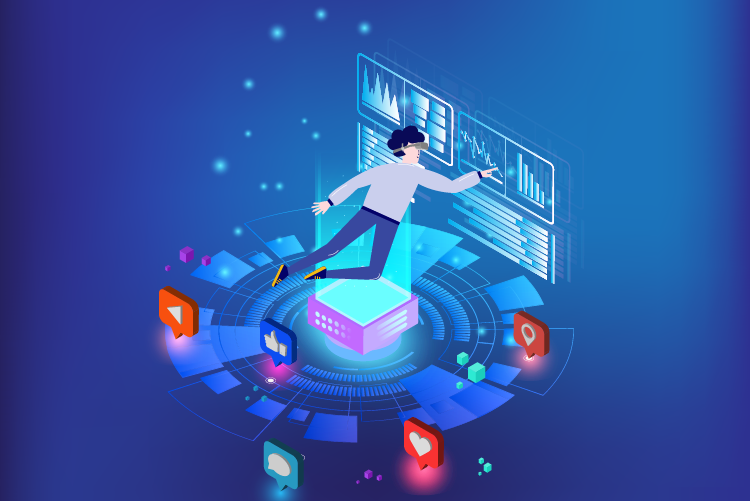 XR stands for "extended reality," a concept that encompasses virtual reality, augmented reality, and mixed reality.
Extended reality (XR) is found extremely beneficial for employee training and development in industries, including energy and utilities, construction, healthcare, aerospace, manufacturing, and the military. XR programmes can securely train learners on technical skills, safety, machinery, and more using augmented reality (AR), virtual reality (VR), or mixed reality.
Overview:
XR training refers to training solutions that use a headset, mobile phone, or tablet to expand reality. XR training often known as Immersive Learning includes learning methods, such as:
Virtual Reality – Virtual reality (VR) creates a virtual environment in which the user is completely involved in an experience. Learners can be transferred to a new location where they can look around, interact with items and people, and walk up to computer-generated objects. Scenario-based learning, technical skills, multi-step activities, onboarding, and simulations all benefit from VR.
Augmented Reality – AR training adds interactive, digital elements to a real-world environment. In AR, learners can place 3D computer-generated objects onto a surface to study and interact with it. AR is ideal for training technical skills, multi-step tasks, onboarding, and product knowledge.
Mixed Reality – Mixed reality combines the physical and digital worlds through the use of both AR and VR. This sort of XR makes use of powerful computer technology, visuals, and input devices to allow learners to engage in real time with both physical and digital items.
For example, Consider utilizing a mobile device to overlay films on a piece of machinery, or employing virtual reality for a safety simulation — both of these instances demonstrate how technology may be used to enhance a learner's reality.
An XR Development Company like DevDen perform a combination of these functions:
Take note of crucial training metrics
Create XR training with the help of software kits.
Find the best VR headsets compatible with the XRS
Make XR content available on your headsets
Assign users to content
Integrate your XR training with your company's learning management system (LMS).
KPIs in XR Training:
Attempts \sCompletions
Session length
Eye Tracking (Objective Completion Score)
Action Time
Dwell Time
Acceleration
Benefits of using XR in high-risk industries:
Protect Equipments & Assets:
Employees in high-risk businesses frequently operate huge, complicated machinery, putting their property and assets at danger. XR can imitate real-life equipment in a realistic, true-to-life manner to avoid injury and the use of real-life equipment for training. Learners reduce the risk of destroying and occupying real-world property and equipment by doing so.
Reduce learner errors:
XR training allows learners to make and learn from mistakes in a risk-free environment. This reduces the amount of mistakes made in genuine high-risk situations, ensuring the safety of individuals and employees on the job.
Long-term Knowledge Retention:
XR results in higher rates of long-term knowledge retention, which means that learners recall information for longer lengths of time after training. Long-term knowledge retention means that learners will not need to be retrained as frequently, which saves time and money in high-risk businesses.
Cost of an XRS:
Given the extensive list of functions that an XR system can provide, the overall cost will be determined by the number of XRS licenses you acquire, the devices and a base charge for a web-based portal.
Do you have (or plan to have) XR training and want a platform to host, deploy, and track it? Get in touch with us to get all the answers you need.